Here is how to save battery on iPhone, maximize battery life, lifespan, maintain and improve battery health and the best battery charging tips for iPhones ever.
Before jumping straight to the best battery charging tips to improve battery life on iPhone we must differentiate the battery life and the lifespan.
Apple says:
"Battery Life" is the amount of time your device runs before it needs to be recharged. While "Battery Lifespan" is the amount of time your battery lasts until it needs to be replaced.
The below best battery charging tips will not only help you to stop battery from draining but will maximize the both battery life and lifespan of your iPhone.
These iPhone battery charging tips can be used to save battery on iPhone SE, 6S, 7, 8, 8 Plus, X, XR, XS, XS Max, iPhone 11, iPhone 11 Pro and iPhone 11 Pro Max with iOS 13 or later software versions. It may also supports the earlier version of iPhones as 4S and 5S. But it would be better if you consider these battery saving tips for iOS 13 or later version supported devices.
Check out if your iPhone is compatible with iOS 13.
So, let's go ahead and discuss all the techniques to keep iPhone battery health at 100.
Check iPhone's Battery Health
Before jumping into tips and tricks for saving the iPhone's battery life, we need to first check out the iPhone's battery health. If the battery health is below than 85% then it's time to replace it. Otherwise, none of these tips are going to help you.
To check iPhone's Battery Health:
Tap Setting
Scroll down and tap "Battery"
Tap Battery Health
Here you'll see "Important Battery Message", about replacing the battery if its health is significantly degraded. If your phone's battery Maximum Capacity is lower than 80% then you must change your battery from the Apple's authorized service provider.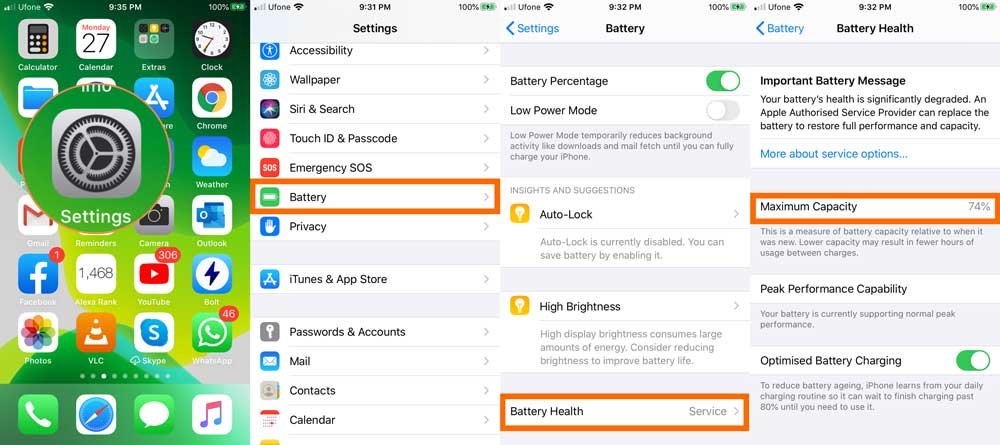 You can see this iPhone battery health is 74% so, it needs to be changed.
1. Update to the Latest iOS Software Version
Make sure that you have installed the latest software version of iOS. The up to date iOS software versions have the advanced energy-saving technologies and will help a lot to keep iPhone battery health at 100. So whenever an update comes out you should download and update latest iOS version in your iPhone.
For this, Go to Settings >> General >> Software Updates
2. Disable Unnecessary Notifications
To save battery life on your iPhone you need to disable all unnecessary notifications and then customizing the actual notifications you want to receive. Because you might have installed games and apps from App Store and they may constantly sending promotional and unwanted notifications that you really don't care about and consuming a lot of battery on your iPhone. Limiting the amount of notification will definitely improve your battery life on your iPhone.
So, to disable useless notifications 
Tap Settings
Open Notifications (You'll see a list of all the applications you have installed and with each app, you need to turn on/off Banners, Sound and Badges, Notification Centre and Lock Screen options.)
If you don't want any notification coming on your smartphone then completely disable by toggling the "Allow Notifications" option OFF. Now you will not receive any notification popping up on your phone's screen.
Tap each application one by one and uncheck, Notification Centre and Banners because normally you don't need them as much. Also toggle to turn off Sounds because disabling all notification sounds you can save a lot of battery on your iPhone.
Keep Lock Screen Checked and Badges ON.
3. Figure Out Battery Killer Apps
By figuring out what is the most likely reason causing the battery draining from your phone and fixing will be greatly helpful in preserving iPhone battery health.
So, to figure out the most notifications coming from or you are spending the most of time on your phone:
Tap Settings
Tap "Screen Time"
Tap "See All Activity"(Here you'll see the "total screen time" and the "most used" apps sorted from high to low usage)
Scroll down to the bottom and go to the Notifications area
Here, you can figure out which app is sucking the more battery by sending the notifications(sorted from high to low)
Open each app and uncheck Notification Centre and Banners and turn off the sounds

You can set "Down Time" to limit yourself from using your phone too much and also set the "App Limit" if you don't want to use social media and games for too many hours in a day. These settings will not only save a lot of battery from consumption
4. Do Not Close All Applications on Your iPhone
It's a good way to open an app and then close it after usage but it's a worst way to close all the apps that are running in the background.
The great way is, close all those apps that you don't need to reopen again and again but keep the mostly used apps running in the background.
Closing an app and then
reopening it, consumes a lot of battery than running that app in the background.
So, if you repeatedly use Facebook app or a game then do not close it after usage.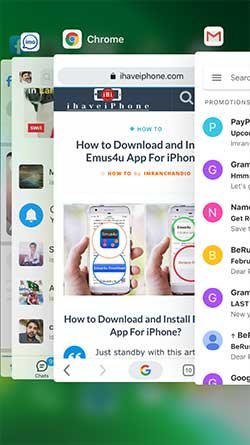 5. Low Power Mode
"Low Power Mode" is the best way to save power on iPhone when your phone's battery is at 20% or below. Then I will suggest you to turn it ON. Because it will suspend all the background apps from refresh, stops the email fetch and the automatic downloads.
To turn on low power mode:
Tap Settings and then tap Battery
Toggle on Low Power Mode.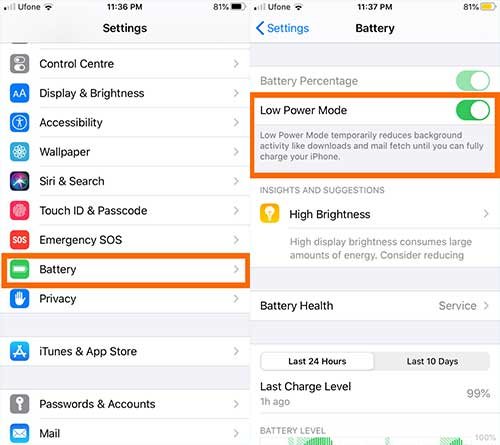 6. Fix Auto- Lock
Your phone drains battery whenever screen is lit up even when you are not using. So, it's better to set up an auto lock to save battery life on iPhone.
To fix Auto-Lock:
Tap Settings and then Display & Brightness
Tap Auto-Lock and select from the most suitable timer options you can tolerate between 30 Seconds to 5 Minutes.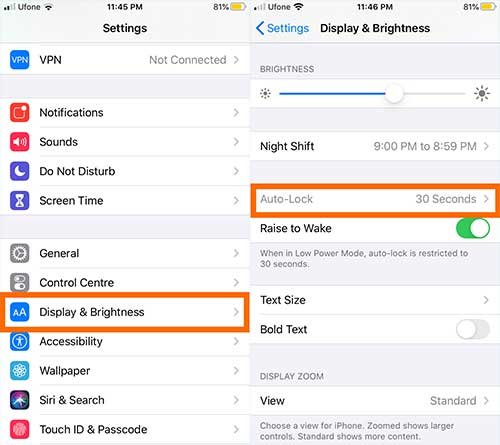 7. Disable Location Services
Almost, all the apps consistently track your location, even when you are not using them. These inappropriately enabled location services consumes a lot of phone's battery life.
To get long lasting and maximum battery life:
Tap Settings
Tap Privacy
Location Services
Tap each app and Set "While Using" or "Never" option for all.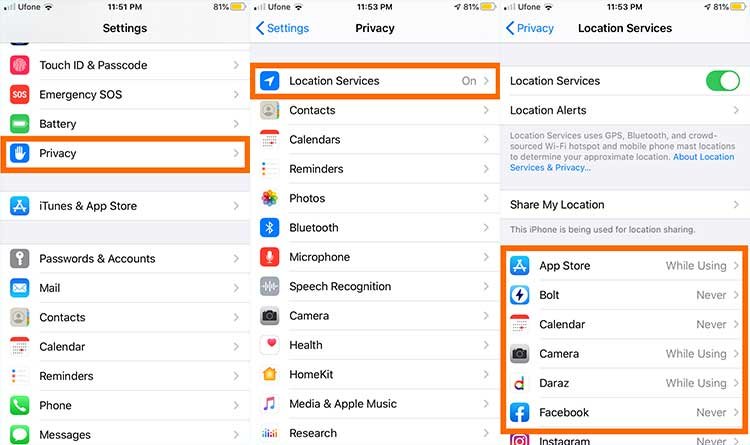 The "while using" option is the most suitable to opt but if you don't want to allow an app for tracking your location simply select Never from the options. These settings will preserve iPhone battery lifespan
8. Turn On Dark Mode in iOS 13 or Later
If you are using any iOS 13 dark mode compatible iPhone then you must turn it ON. Because you are definitely using an OLED display device and enabling dark mode on such devices uses less pixels.
Since Black does not use any pixels on OLED enabled iPhones therefore, it is better to use Dark Mode on iPhone. Turning ON Dark Mode means Turning OFF all the bunch of lights in your house. That's why you will save a lot of battery while using iOS 13 System-wide Dark Mode.
Here's how to save more power on your iPhone:
Tap Settings and then select Display & Brightness
Just tap "Dark" to enable system-wide dark mode on your iPhone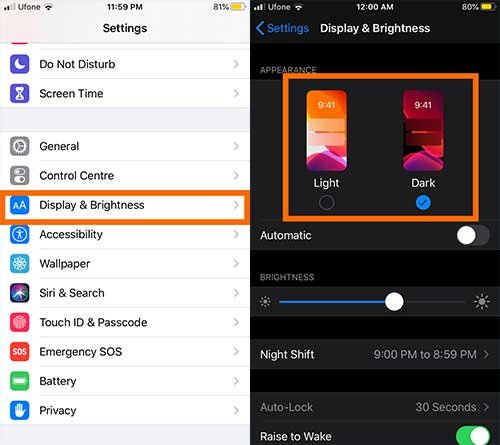 You can also set the brightness level from high to low to improve battery life of iPhone.
9. Turn Off Background Apps Refresh
All iOS devices including iPhones refresh their content over Wi-Fi or Mobile Data. You can manually turn this feature ON and OFF according to your need.
There might be some apps on your phone that require keep refreshing time to time for updated information. While you want rest of the apps permanently stop refreshing.
This will not only save a lot of Mobile Data or internet MBs but preserve iPhone battery health lifespan too.
To turn off background apps refresh:
Tap Settings then General
Tap "Background App Refresh"
Again tap "Background App Refresh" and select  Wi-Fi & Mobile Data
Tap one step back
Here, you will see a list of installed apps. Just Toggle between ON and OFF the app you want to refresh or not.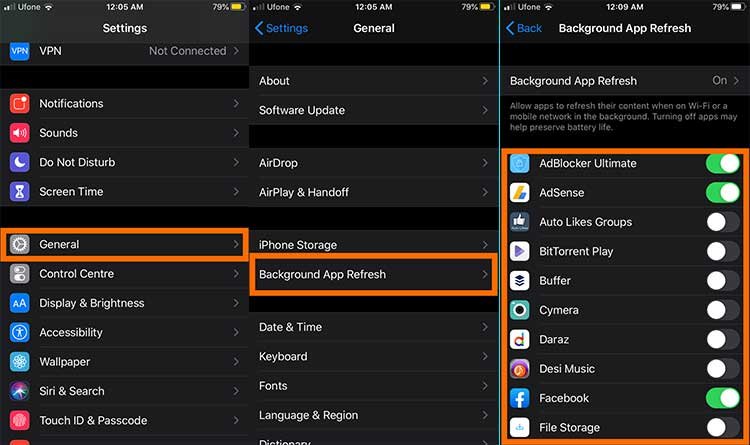 Personally, I turn on the necessary apps like Twitter and Facebook, Email Apps, Maps and Weather apps. While all the other apps are turned off from persuading refresh.
10. Turn On Optimized Battery Charging
This is one of the brand new feature called "Optimized Battery Charging" that allows your iPhone to learn from your daily charging routine and talk time or using time throughout the day and night by 24 hour.
So, turning on "Optimized Battery Charging" option use machine learning to learn your charging habits between wake up and sleep time and slowly charge your phone during your sleep time. So this is a great way to increase maximum capacity of iPhone battery at a high percentage overtime.
Here is how to turn on Optimized Battery Charging option:
Tap Settings then Battery
Tap "Battery Health"
Toggle on "Optimized Battery Charging"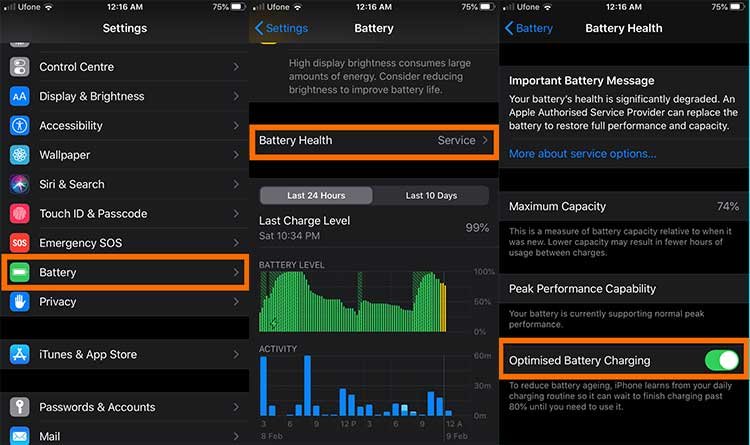 Applying the above iPhone battery charging technique will increase maximum capacity of iPhone battery health 24/7 a day.
11. Remove Case While Charging
The cases are cool to use but not when your phone is on charging. Remove any type of case just before you plug charger in your smartphone. Actually the charging produces a lot more heat and it can affect your battery capacity if the phone is using some sort of stylish cases. So always take your phone out of its case and then plug it for charge.
12. Do Not Use Fast Chargers
The next iPhone battery charging tip is: do not use the fast chargers or the wireless chargers all the time. But you should use them on demand. Because the wireless chargers and the fast chargers produce extra heat and weaken the battery the more and more you use such charging techniques.
It is good to use faster charging in emergency or critical situations but do not use while sleeping or when you have much time for charging. Otherwise it will wear down your mobile phone lithium-ion battery within a year.
13. Make Sure Your PC is On When Connected with Phone
When you plug in your phone with PC or a laptop for charging purpose then make sure the PC is turned on otherwise your phone will keep draining more battery power even if your PC or laptop is in sleep mode.
14. Fully Charge your iPhone
You must fully charge your iPhone once in a month after having it completely run down. That will complete the battery charging cycle and keep the electrons active.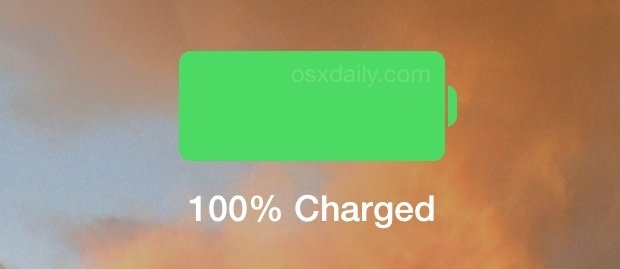 15. Silent Unknown Callers
Another brand new feature to save battery on iPhone comes inside the phone settings.
Yes! By turning on "Silent Unknown Callers" option will silence all the incoming calls from all unknown numbers. There will be no ring tone, no vibration and no showing up display all the time for such robo and spam calls and your iPhone will not drain battery against such calls. However you'll listen a ringtone all of your all of your incoming calls from your contact list and Siri suggestions. 
Just think if few people are continuously calling you and you even don't know them nor you want to receive such calls then this option will definitely save your battery life over time.
Here is how to silent unknown calls:
Tap Settings
Scroll down and tap Phone
Toggle on "Silence Unknown Callers"
So, silencing the unknown callers is a great way to preserve iPhone battery health by the time.
16. Use Ad Blockers
This option is for those who mostly use internet for web browsing on their phone. Just think about all the annoying ads running on the website are not only draining your phone's battery but also using most of the internet data MBs and the device resources. These draining ads are also slowing down performance and taking a lot of energy from your phone and your eyesight.
So, the best way to save iPhone battery life is installing any cool ad blocking app in phone. But if you use Safari all the time then:
Tap Settings
Scroll down and tap Safari
Toggle on "Block Pop-ups"
Or install any ad blocker app like AdBlocker Ultimate on your iPhone.
Let's install AdBlocker Ultimate for example;
Tap Settings
Scroll down and tap Safari
Go to General and tap "Content Blockers"
Toggle on "AdBlocker Ultimate"
So, using any method above will preserve iPhone battery lifespan beyond your thinking.
17. Turn On Auto-Brightness
Stop your phone to drain battery quickly due to extra brightness. The auto-brightness option will darken the phone's screen as it gets later in the day.
Here's how to turn on auto-brightness to improve iPhone battery health:
Tap Settings then Accessibility
Tap Display and Text Size
Turn on "Auto-Brightness"
18. Turn Off Vibration
I would like to suggest that you must completely turn off vibration on both ring and silent mode or at least on ring mode. Because on vibrate mode, the motor inside your phone drains a lot of battery. If you are wearing an Apple Watch then you should definitely turn off vibrate mode because you have already received vibration on your Apple Watch. So it is useless and takes up a lot of energy from your iPhone's battery.
Here is how to turn off vibration to save battery on iPhone:
Tap Settings
Tap Sound and Haptic
Turn off "Vibrate on Ring" and "Vibrate on Silent"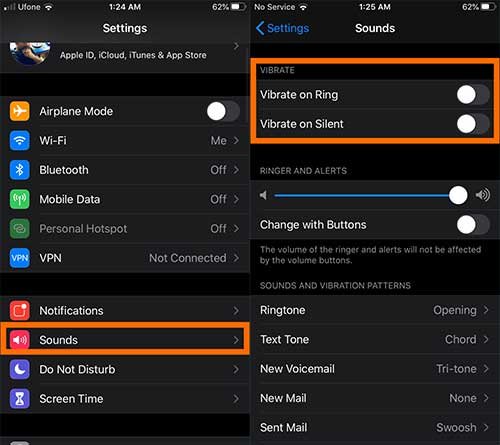 19. Turn off "Push" on your email accounts.
There are only two ways you can set up all your email accounts for receiving emails.
Push:  receive and download email in real time
Fetch: receive and download email after every 15 minutes
So, fetch uses less battery power because it pings the server less than Push method.
Here's is how to enable Fetch method to receive emails.
Tap Settings
Tap Passwords and Accounts
Tap Fetch New Data and select "Fetch" for each account.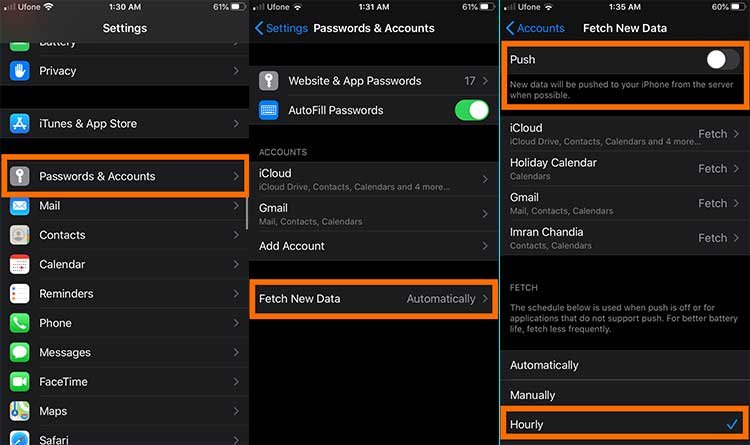 You can also set scheduled time for fetching an email between 15 minutes to one hour by manually or automatically. If set for one hour it will save more power on iPhone.
20. Turn Off Mobile Data When Using Wi-Fi
Mobile Data is not only expensive to use but also requires more battery power to access internet than a Wi-Fi network. So, it's better to turn it off when you are using a Wi-Fi network.
Just swipe up and tap on mobile data icon to turn it off.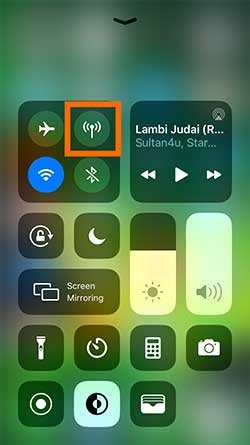 Similarly, when you are using Mobile Data then turn off Wi-Fi.
21. Turn Off Bluetooth
The Bluetooth is used to pair two devices like iPhone with an Apple Watch or it is used to AirDrop, Airplay music and transfer files or used to Find My Location.
If you are not using services that effectively use Bluetooth then it's best to turn it off to save more battery power and keep it healthier for a long time.
Here is how to turn off Bluetooth to save battery on iPhone:
Tap Settings
Tap Bluetooth and toggle it off
23. Keep and Use your iPhone in Apple's Prescribed Conditions
To improve iPhone battery health and lifetime, you must avoid extreme hot and cold temperature when using it. If you go outside on a beach then keep it in a towel. In car, do not put it on the dashboard or in front of Sun. So that it does not get hot and overheat. Otherwise, you'll receive an alert on your phone saying that your phone needs to be cool down
Similarly:
Avoid using in extreme cold conditions like snowfall etc.
You must use the iPhone in its prescribed operational temperature ranges between 0 C and 35 C (32 F to 95 F)
23. Turn Off Siri Suggessions
If you do not use Siri and search then I would highly recommend you to completely turn it off to enhance iPhone's battery life because Siri takes a lot of resources and power from battery. I think it's just a waste of resources and a lot battery power.
But if you think you are living in a smart home and often order Siri to do smart work for you then its ok, you can use it.
Here is how to turn off Siri Suggestions:
Tap Settings
Scroll down and tap Siri & Search
Go to Siri Suggestions section and turn off all suggestions
You can also turn off Listen for "Hey Siri" option if you are not using a smart home
The above Settings will definitely save battery on your iPhone.
24. Turn Off Automatic Software Updates
You need to make sure that your phone is not set to toggle on for automatic software update. Because if this Settings is on then your phone will randomly start downloading software updates without taking care of how much battery is remaining in your phone.
This will not only wear down your iPhone battery life but also will take up a lot of space on your phone. So, here's how to turn off automatic software updates on your iPhone.
Tap Settings then General
Tap Software Update then Automatic Updates
Toggle off Automatic Updates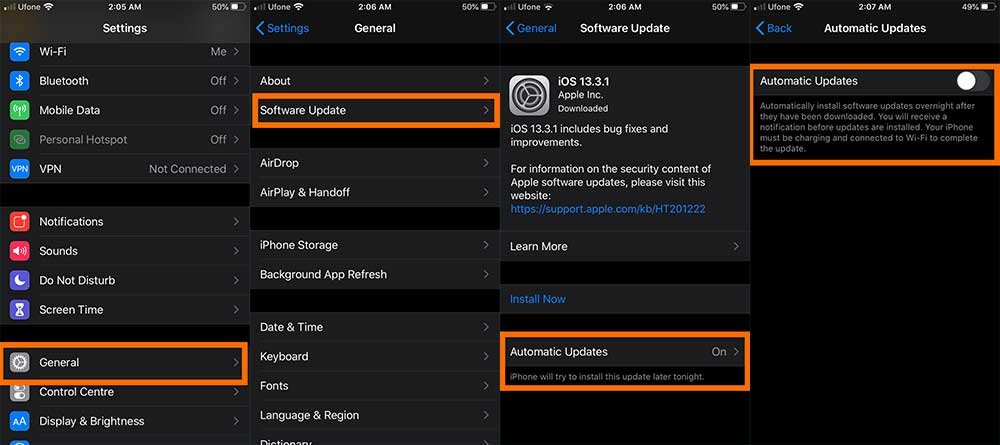 25.  Turn Off Raise to Wake
The next but very important tip to save iPhone battery life is to make sure that "Raise to Wake" is turned off.
When this feature is ON then it wakes up your phone's screen when you raise it from desk, lap, and ground or shake it or snatch from your child or produce a little bit push or pull. It will illuminate the entire screen and will take up you to the Lock Screen believe me this function take a lot of battery power because just images how many times a day your phone awakes and sleep.
So, here is how to turn off Raise to Wake to save iPhone's battery life:
Tap Settings then Display & Brightness
Toggle off Raise to Wake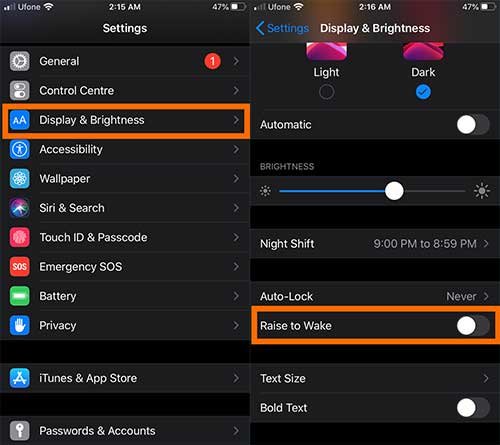 26. Use Airplane Mode Wisely
The next iPhone battery saving tip is to effectively use Airplane mode when there is no signal or facing low signal bars especially when you are traveling in Aeroplane or in mountainous areas.
The low amount of signal bars and the less signal-strength uses the more battery power because your cellphone is continuously searching and trying to connect to the cellular towers for signals.
So it's better to turn it on during flying time or the areas where there is no coverage.
27. Turn Off Music Equalizer
Turning off Equalizer simply means that we are not going to add any extra layer of equalization to the music. Just keep it simple to save more battery power. I know it's a minor battery saving tip but it can save more battery life and contribute something great to keep the battery healthier if you plan it for a long time.
Tap Settings then Music
Toggle off EQ from the Playback section
The above Equalizer Settings will save battery on iPhone at minor level
28. Turn on Auto Stop Playing Music While Sleeping
It is more convenient to turn on auto stop playing music while you are sleeping. The default Clock app in your iPhone has the Timer app that can be triggered to stop playing music within the set time.
It will definitely save battery health of your iPhone during sleep time. Here is a step by step guide to auto stop playing music and movies while sleep time.
Final Words
We have discussed best iPhone battery saving tips and techniques to save battery life on iPhones with you. The above tips and tricks will definitely help to increase maximum capacity of iPhone battery (for all iPhone models).
If you are using some other techniques to preserve phone battery lifespan and health then mention in the comment section below.