The ChargerLAB, in a Hong Kong website, has tweeted that Apple is avoiding 5-watt charger, the new upcoming iPhones will come up with USB-C charger that will twice speed up the iPhone charging. According to them, the leak is also confirmed by the high-level executives.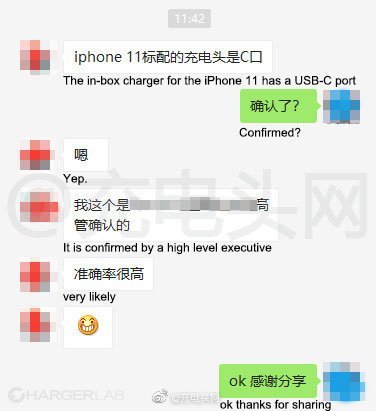 ChargerLAB Tweet for USB-C cable for upcoming iPhones
While the ChargerLAB has a mixed track record regarding Apple rumors to be true or untrue. Because once it has wrongly claimed that in 2018, the new OLED iPhones will come up with the USB-C chargers but it never happened. The Apple did debut a USB-C charger in its 2018 iPad Pro models, which now feature USB-C ports instead of Lightning.
ChargerLAB has also created trouble for Apple in January by leaking the news that Apple's ill-fated AirPower had entered in mass production. The result was the company has canceled the wireless charging mat after two months.
If the above claim is true then finally Apple iPhones will come up with fast charger while retaining Lightning Cable that is a cherishable one.
Apple iPhone 11 and 11 Max are also expected to release most likely on September 10, with a larger and longer time battery. A claim also suggests that the new iPhones will allow two-way charging. Now the Apple users can charge Apple Watch and AirPod with their iPhones.
Either way, the new iPhone 11 will look similar to the iPhone XS or the last year's models but with the new camera setup is expected – not for sure, what Apple will call the new iPhone.
Our Take
What if the USB-C charger claim is true, then the best thing is that the iPhone users will take a sigh of relief from the slow charger. Hope for the best. Keep visiting ihaveiPhone.Com