What is XNSPY iPhone Spy App and how to install the XNSPY app on your iPhone? Find XNSPY pricing, reviews, features, compatibility, pros and cons, and more.
The iPhone is considered among the most secure smartphones because of the safety features developed by the company and the basic design of the OS. Hackers have also frequently targeted Android devices because of software vulnerabilities.
However, this does not mean that no one can spy on an iPhone. There are many iPhone spy apps designed to circumvent some of the loopholes in iOS. Most of these apps promised a range of features but fail to meet those promises in practice.
Today, however, we will be reviewing a top-rated iPhone spy app called XNSPY. We thought it would be a good idea to review the app because the service has attracted positive reviewers from parents and employers.
In this article, we will identify the XNSPY pricing and compatibility options for the app before reviewing the functionality. We will also provide a detailed guide on "how to install and use the XNSPY iPhone spy app."
XNSPY iPhone Spy App Reviews
Let's start with what is XNSPY app for iPhone?
What is XNSPY iPhone Spy App?
The XNSPY iPhone spy app is a sophisticated tool that collects detailed information from the iPhone while remaining completely hidden. The service is also consistently ranked among the best smartphone monitoring apps currently available on the market.
XNSPY Price and Compatibility
XNSPY Pricing
XNSPY works on a subscription basis like most other iPhone spy apps. You can subscribe to two different versions. The premium version costs USD 7.49 per month and provides a complete suite of features. On the other hand, the basic version is more affordable at USD 4.99 a month but does not provide all available features.
While reviewing the app, we concluded that the premium version is a far better option because it provides a large number of features at only a fraction of the cost.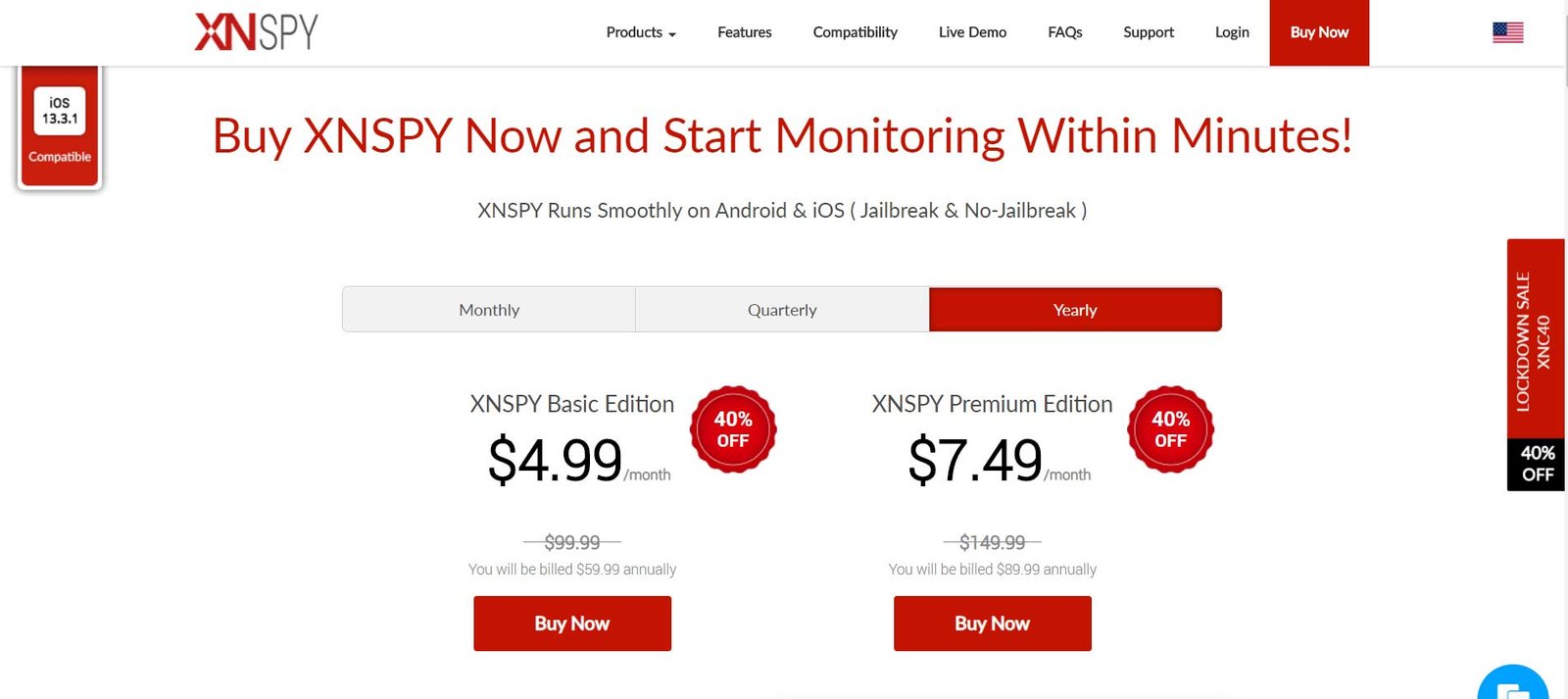 Compatibility
Before moving towards XNSPY features, we should first discuss the XNSPY compatibility with the iOS versions.
XNSPY iPhone spy app is compatible with all devices running on iOS versions above 6.0. Since most iPhones currently in use are running on versions above 6.0, compatibility should not be a cause for concern.
Now that we have listed the pricing and compatibility options, let's get down to the heart of the matter.
XNSPY features
Call tracking
One of the best XNSPY app features is call tracking.
You can use the app to monitor all calls on the iPhone. The call details are listed in a call log that identifies the time, date, and duration of all incoming, outgoing, and missed calls.
Furthermore, you can also record the calls and download the recordings. However, XNSPY does not offer a live-call interception feature. This function is useful for managers seeking to improve customer support.
SMS & IM monitoring
XNSPY iPhone spy app tracks all incoming and outgoing messages. It can monitor SMS, MMS, and all text messages exchanged via IM apps such as iMessage, WhatsApp, Viber, Skype, Tinder, LINE, Kik, and others. Most of these apps are popular among children and teenagers.
This is why it is a useful function for parents seeking to monitor who their child is talking to. Parents can also use this feature to identify inappropriate communication or incidents of cyberbullying.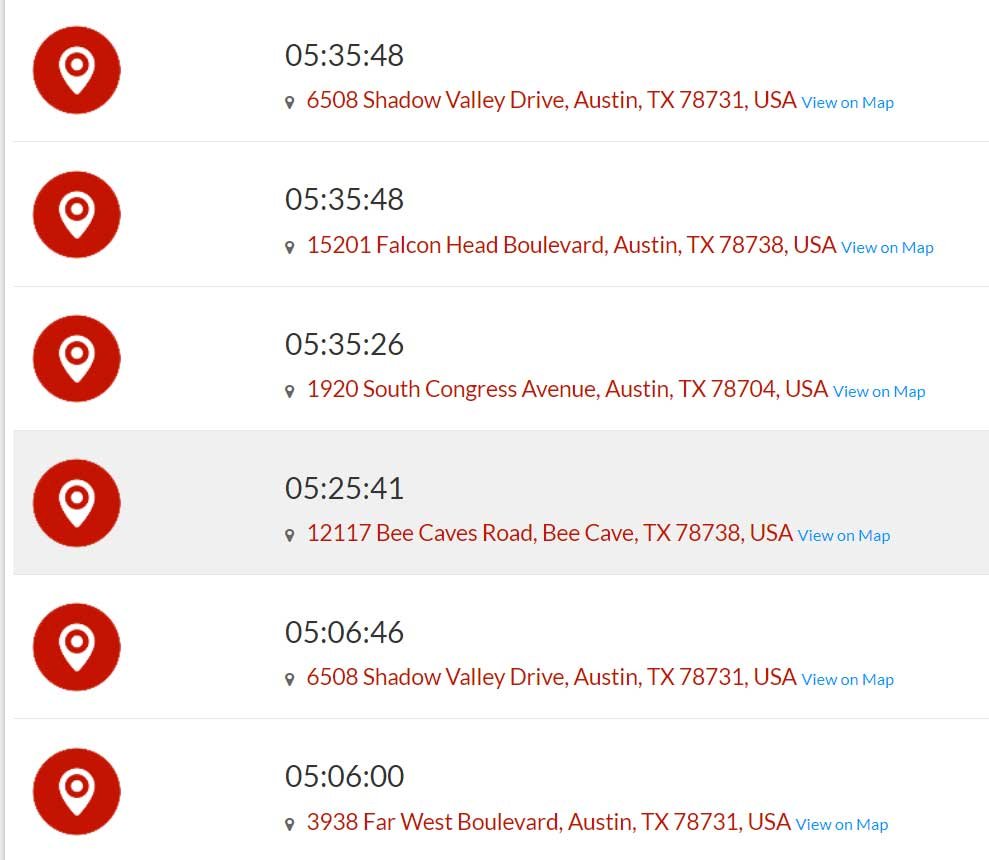 GPS tracking
The other exciting XNSPY features include GPS tracking.
You can use XNSPY to track the location of the iPhone in real-time, along with the device's location history. This can help to build a complete picture of their whereabouts and routes. Additionally, the app provides a geofencing sub-feature as well.
You can use it to mark specific locations on the map and the service will pay special focus on these. The app will send out alerts the moment they violate the geofence.
It's a useful function for managers involved in the shipping or customer delivery industries. On the other hand, parents can use it to prevent their children from accessing inappropriate locations.
Multimedia
The app can monitor all multimedia files saved on the iPhone. This includes all photos, videos, audio files, and calendar entries. It's a useful way of knowing if your child has inappropriate content saved on their phones. However, employers will find limited use for this function.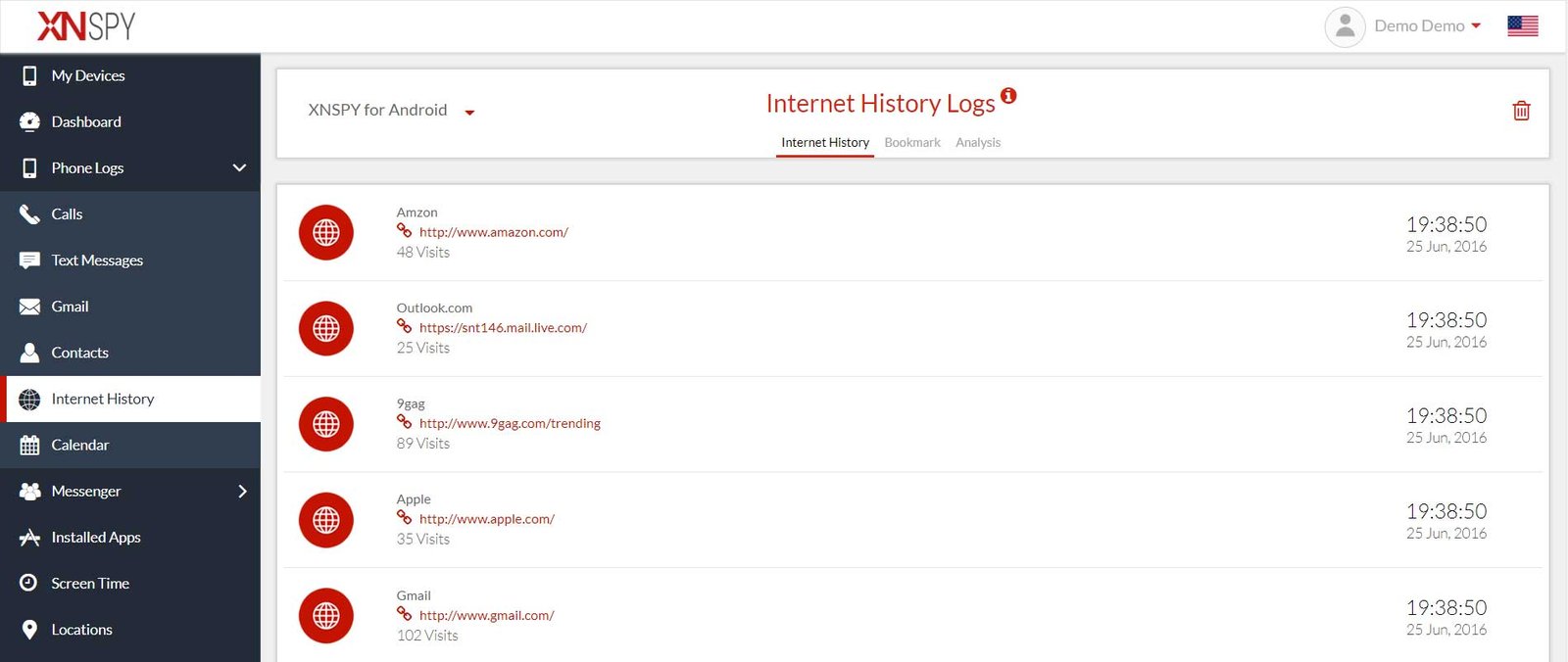 Online activity & social media monitoring
You can use XNSPY to keep track of all online activities. This is because the app can monitor all bookmarked pages, save a list of all exchanged emails, and collect the complete web browsing history.
This function is especially important for employers seeking to measure the productivity of their workforce. On the other hand, it has negligible importance for parents.
This is because XNSPY does not offer a content filtering or website blocking function. As a result, parents will have to purchase a separate app for the purpose or use the iPhone's built-in content filtering feature.
iPhone remote control
XNSPY is among the few monitoring apps that offer an iPhone remote control feature. For example, you can use this function to take screenshots or turn on the phone's microphone to listen to the surroundings.
In our experience, this feature is as intrusive as it sounds. However, there are other, highly useful remote control features. For example, you can view all installed apps and block/unblock any of them at the click of a button. Similarly, you can access the contacts list or use the screen-time management function.
The app can lock the phone, restart it, or even wipe off all data to protect privacy.
iPhone watch list alerts
This is a unique feature available with the XNSPY iPhone spy app. You can add any contact, word, phrase, or location to the list and direct the app to closely monitor them. XNSPY will scan all phone data for everything included in the list, and send out immediate alerts if it detects relevant activity.
For example, suppose you add terms like "pornography" to the list. XNSPY will notify you if the word is mentioned in any text message, typed on the phone, or searched online. This is an advanced feature that cuts down on the time required to go through all the data. This way, you can take a more hands-off approach.
Additional iPhone functions
Other features available with the service include a keylogger that records all keystrokes made on the iPhone, a Wi-Fi logger that lists all connected networks, and a detailed report on device use.
You may be wondering how you can install the app on the iPhone or how to use the aforementioned features. Do not worry, we have got you covered. Let's go through a detailed step-by-step process to install XNSPY on iPhone.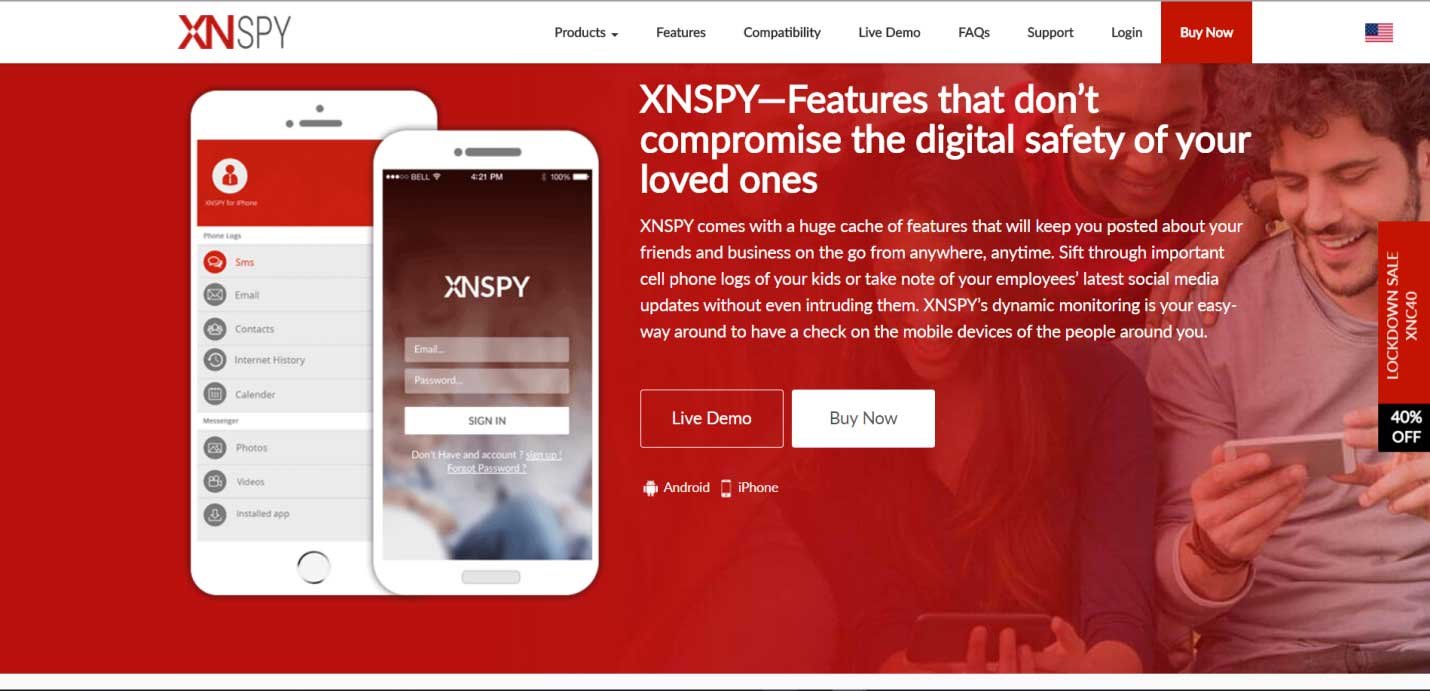 How to Install XNSPY on iPhone
Here's a step-by-step XNSPY installation guide for iPhones.
Step 1: Go to the XNSPY website and select the "Buy Now" option at the top of the page.
Step 2: Enter your email address and make payments on your selected subscription package.
Step 3: Check your inbox for an email that contains instructions on how to install the app, and your unique XNSPY log-in details.
Step 4: You do not need to physically access the iPhone to install XNSPY. However, you need to know the Apple ID details of the phone you want to track. Moreover, make sure that the "iCloud" backup feature on the iPhone is toggled on. You can do so via the settings menu on the iPhone.
Step 5: Use the details included in the email to log in to your XNPSY account on the app's website.
Step 6: Select the "My Devices" option from the bar on the left and then choose "iPhone."
Step 7: Enter the Apple ID details of the phone and wait for verification.
Step 8: You can now access all data from the iPhone through the menu bar on the left. The XNSPY control panel is accessible from any web browser.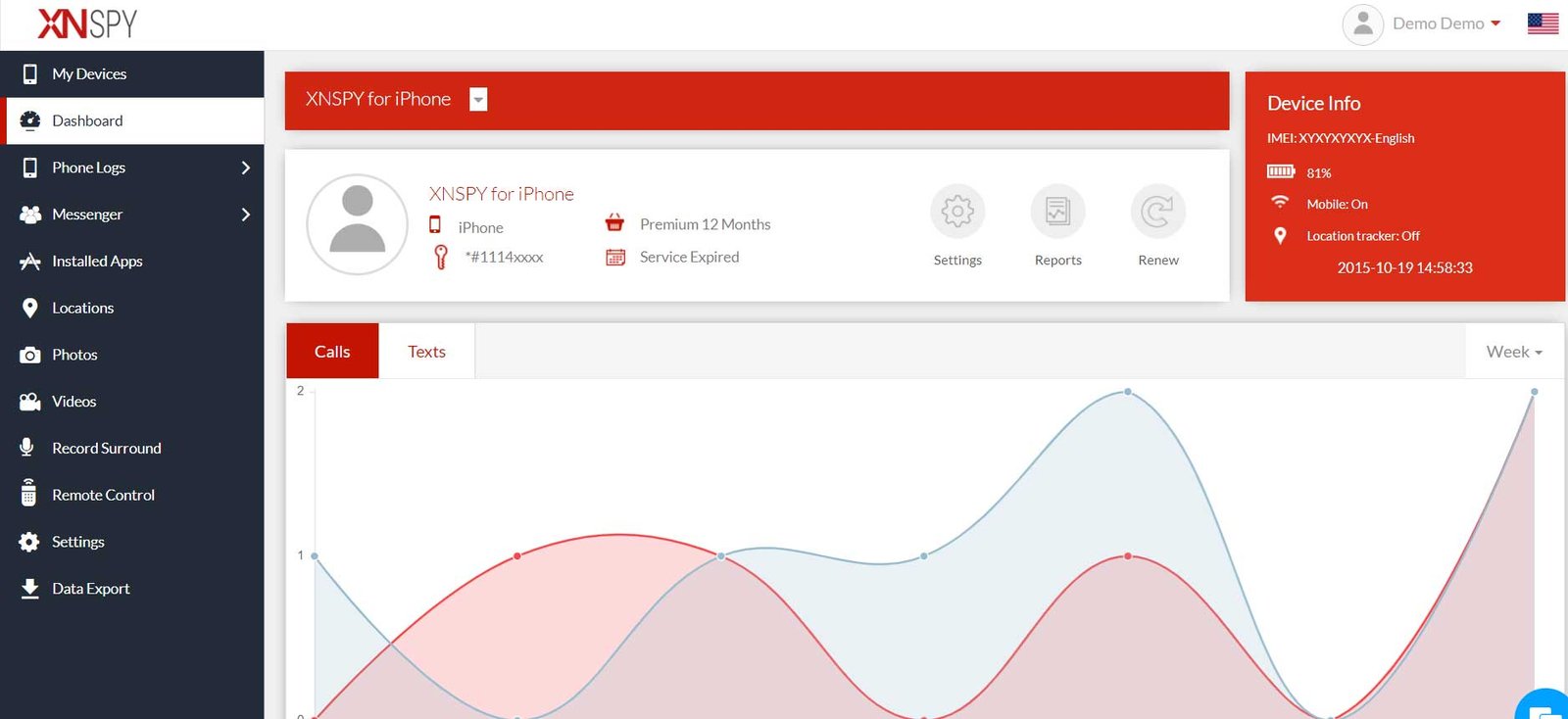 Let's list down some of the prominent pros and cons of the app.
XNSPY – for and against
For
XNSPY is the most affordable iPhone spy app currently available on the market.
The service offers a comprehensive suite of features to meet the needs of both parents and employers.
The iPhone watch list alert function is particularly unique and not available with other spy apps.
Against
You may have to jailbreak the iPhone if you want to use some features.
XNSPY does not provide content filtering or website blocking.
Some remote control functions can be very intrusive.
Our Verdict
The XNSPY iPhone spy app has limitations such as a lack of content-filtering or website-blocking options. Similarly, you may have to jailbreak the iPhone if you want to use some specified features. Jailbreaking can make the iPhone insecure and also hint at the presence of a spying app. However, we have not come across any iPhone spy app that does not require jailbreak for some functions. That being said, XNSPY is the most affordable app that we have reviewed to date. Along with affordability and sophisticated features, the app is also very easy to use. This makes XNSPY a top-rated iPhone spy app that is useful for parents and employers alike.
Here is a summary of our review of the XNSPY iPhone spy app.
Summary: XNSPY iPhone Spy App Price, Compatibility, and Features
| Features | Availability |
| --- | --- |
| Price | USD 4.99 a month for the basic version and USD 7.49 per month for the premium package. |
| Compatibility | All devices running on versions +6.0. |
| Call log | Yes |
| Call recording | Yes |
| SMS & MMS | Yes |
| IM & Social Media | Yes. Please check our review or visit the XNSPY website for the list of apps. |
| Content filtering | No |
| Web history | Yes |
| GPS tracking | Yes |
| Geofencing | Yes |
| Emails | Yes |
| Website blocking | No |
| Photos | Yes |
| Videos | Yes |
| Keylogger | Yes |
| Audio | Yes |
| Screenshots | Yes |
| App blocking | Yes |
| Remote camera | No |
| Remote microphone | Yes |
| Remote phone locking | Yes |
| Instant alerts | Yes. Available for contact, location, or words. |
| Jailbreak | Yes, but only required for some features. Please visit the XNSPY website for more details. |
| Physical access to iPhone | Not required. |
| Apple ID details | Required |
Other Best iPhone Spy Apps
Here's a list of the best spy apps for iPhone.
Final Words
We have discussed in-depth details on what is XNSPY, its pricing, features, and compatibility. Also, we have thoroughly learned the step-by-step XNSPY installation guide for iPhones along with other best spy apps for iPhones to monitor any targeted smartphones in the world.
After reading the complete review, you know how to install the XNSPY app on your iPhone and monitor the target device easily after performing a few mandatory steps.